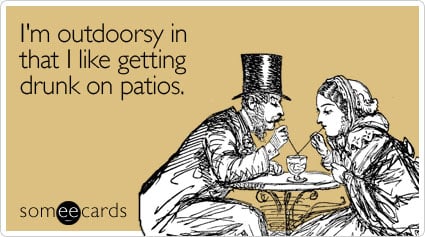 Isn't this how most people feel?

Let's discuss the great outdoors. We all know people who LOVE the great outdoors. They're into camping, boating, kayaking, wake boarding, surfing, biking, yard work, hiking, animals, bugs, skiing, snowboarding, stuff that's housed in the garage, and all other things related to outdoorsy stuff.
I realize I will take some criticism for this post (much like my "Dogs aren't really my thing" post), but here it is anyway. I'm not very outdoorsy. I enjoy going for walks. I enjoy hiking, when the opportunity arises. Running, is in fact, one of the only activities I prefer to do outdoors.
I was your normal child. We were outdoors a LOT as kids. In Pittsburgh, all of the kids were always outside, playing in the cul-de-sac, and on the giant rocks in the middle of the island of land between all of our houses. I remember being practically dragged in for dinner in the evenings, only to go right back out afterward to play with my parents and brother in the backyard. But now, something has shifted. Being outdoors is just not entirely enjoyable to me.
For one, I don't like to get sweaty for no reason. If I'm working out? SURE! If I'm sitting still? Not so much. Why am I sweating for no apparent reason?! I could be sitting somewhere cool.
For two, I don't like laying out. I don't find it relaxing. I get bored. I get grumpy. I'm not really concerned if I'm tan or pale. It just doesn't matter to me.
For three and four, I don't like yard work and I don't like bugs. There are people who find yard work totally relaxing. I get it. I appreciate these people. I'm not one of them. Planting flowers, pulling weeds, even mowing the grass doesn't relax me. Assuming the yard looks semi-decent, I'm okay with it. (This, by the way, is a vast improvement over last year when I wanted my grass to die so I didn't have to take care of it).
And then, there are bugs. I despise bugs. Case in point, this morning, I was doing a lot of weeding. Why was I doing a lot of weeding? Because I'd neglected it for about 6 weeks and I have 25 women coming to my house on Sunday for a bridal shower. So, anyway, back to the weeding. First, in the planter nearest my house, every time I pulled out a few weeds, approximately 8 million ants would come pouring out of the ground, run around on my gloves and feet, and look all sorts of confused. Whatever, they're ants. But THEN, as I weeded around my mailbox, a bee FLEW INTO MY EAR. Ick. This also caused a minor awkward dance around the street as I tried to free the bee and get over the ick factor.
So, no, I may never experience the true joy of sleeping in a sleeping bag on the floor of a tent, and no, I may never really fully enjoy extra time in the wilderness. I may just be an indoor girl. But, I'm okay with that.